With expert knowledge and state of the art technology we will detect current inefficiencies within your equipment and provide tailored recommendations to improve your golfing performance. In addition to custom fitting, Top Tracer range enables you to have your current equipment specifications monitored and upgraded through loft and lie assessments, grip changes and gapping. To book, please email: j.jones@thgcc.co.uk // golfshop@thgcc.co.uk or call 01992 466666.
Visitors are welcome all day Monday to Friday, after 12 noon on Saturday and Sunday. If you have any questions - please speak wih a member of staff at 01992 466666
Green Fees
29th March 2022 - 30th September 2022

Visitor Rates
Monday - Thursday
Friday - Sunday
18 Holes
£50
£60
After 4 pm
£40
£48
National Club Passport
£35
£40
National Club Passport after 4 pm
£24
£28

Mem bers Guest Rates

£30
£35
Members Guest Rates after 4pm
£24
£28

1st October 2022 - 31st October 2022

18 Holes

£40
£50
After 2 pm
£32
£40
National Club Passport
£35
£40
National Club Passport after 2 pm
£28
£32
Members Guest Rates
£30
£35
Members Guest Rates after 2pm
£24
£28

1st November 2022 - 28th February 2023

18 Holes
£35
£45
After 12 noon
£28
£36
Hire
| | |
| --- | --- |
| Visitor Buggy Hire | £35 |
| Members Buggy Hire | £25 |
| GPS Electric Trolley Hire | £15 |
| Pull Trolley Hire | £5 |
SafeGolf Accreditation
Here at The Hertfordshire, we are delighted to be recognised as a SafeGolf facility by England Golf. We are committed to growing the game of golf and we are dedicated to encouraging safe participation for all.
SafeGolf is a partnership of UK golf bodies committed to promoting a safe and positive environment for all those participating, working and volunteering in golf. Its mission is to safeguard the welfare of children and young people, as well as adults at risk, in the sport.
SafeGolf is firstly, a website – www.safegolf.org – through which anyone with a concern about the welfare of a player, or the behaviour of practice of a coach, volunteer, organiser, parent, or a player, can contact the lead safeguarding officer at their national governing body.
Secondly, it is the safeguarding standard England Golf promote to all their affiliated clubs to ensure all clubs provide a safe and positive experience to the standards to apply to all their PGA professional Coaches.
To find out more, please click on the logo below.

The Hertfordshire Golf & Country Club is pleased to announce that we have appointed Lauren Hunt as our Club Welfare Officer. If you are concerned about a child, it is not your responsibility to investigate further, but it is your responsibility to act on your concerns and share them. Pass the information to our Welfare Officer, who will follow the club's Safeguarding procedures.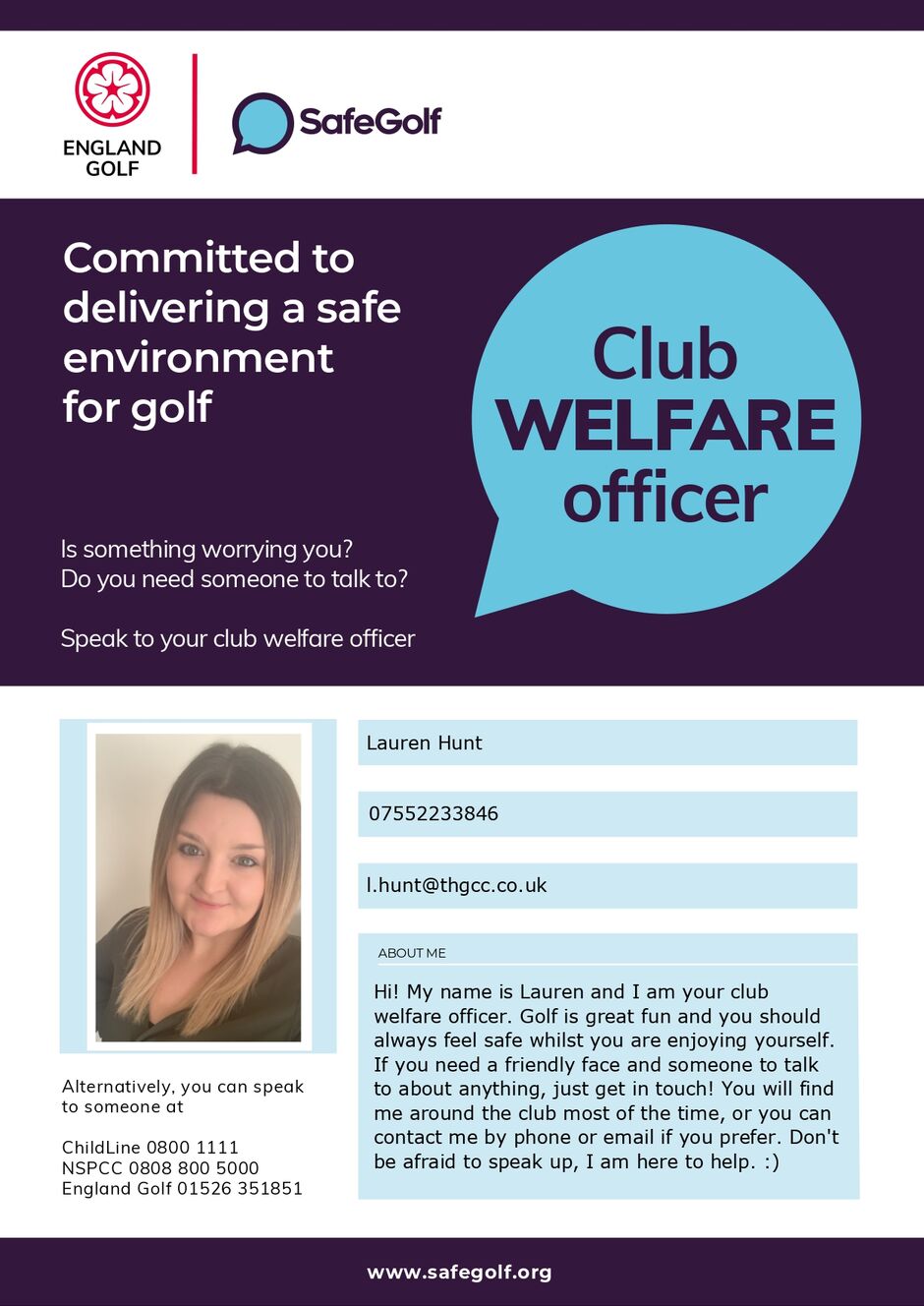 The Hertfordshire Golf & Country Club asks our members to familiarise yourself with the following:
Anti-Bullying Policy
We believe that every effort must be made to eradicate bullying in its entirety. The Club will not tolerate bullying in any of its forms during club matches, competitions, coaching or at any other time while at the club.
Children and Young People Safeguarding Policy and Procedures – Click here
Safeguarding Adults Policy – Click here
If you believe the child is at immediate risk of harm, call the Police.
Other useful contacts:
NSPCC 24-hour helpline Tel: 0808 800 5000 | England Golf Lead Safeguarding Officer: 01526 351824